Movies have the Oscars, Broadway has the Tonys, music has the Grammys and now we are proud to present the first cross-country trip awards, in honor of Thelma and Louise, the "Thel-ises".
As you know, Glenda is a member of SAG-AFTRA and that union is giving its awards on Sunday, January 27. We know you join us in hoping that Glenda walks away with the trophy for "Best Performance by an Elbow in a Television Series". Fingers crossed!!!
We'd love to have you create awards for our blog! For example, "Funniest Line in the Blog" or "Most Clever Comment by a Reader". Please feel free to post your award here on the blog or if you are technologically challenged (please see our post "Tortured by Technology") you can email it to us and we'll post it for you. We love your feedback!
And the Thel-ise goes to…
Driving
Scariest/Hardest Drive

Yosemite National Park, CA – Lots of switchbacks, perilous drops and limited visibility at night. Yikes!
Monarch Pass, CO – Not sure which was worse, climbing or descending…
the flooded desert of Las Vegas, NV – We decided they don't know how to build roads for rain in the arid desert that is Vegas; one downpour and the place is treacherous!
Loneliest Road

Yep, you guessed it, Route 50 – also known as "The Loneliest Road in America"
Most Expensive Gas

Death Valley, CA Regular: $5.99 per gallon
Least Expensive Gas

Liberty Corner, NJ Regular: $3.95 per gallon Go Jersey!!
Most Perilous Empty Gas Tank Situation

Day 1 en route to Niagara Falls, NY – We were so enthralled with actually being on the road, starting our adventure, that we utterly forgot about the gas tank and got down to fumes. Good grief!!!
Best Vehicle Feature of our Subaru Tribeca

Our personal temperature controls (very handy for non-synchronized hot flashes)
Down-shifting (if we had ever learned how to use it)

Food and Drink

Best Meal (home-cooked excluded)

Oklahoma Joe's BBQ in Kansas City, KS – This eatery started as an adjunct to a gas station and still serves up fabulous ribs with a side of regular or premium gas.
Most Creative Use of a Fruit

National Lakeshore of Michigan's everything cherry. Who knew there was such a thing as cherry salsa or cherry coffee? All at their own everything cherry store, Cherry Republic.
Most Surprisingly Tasty Local Delicacy

Fish sausage from Carlson's of Leelanau, MI
Elk mignon
Bison burger
Burgoo in Lexington, KY
Best Use of a Vegetable

Corn Palace – Mitchell, SD – We were introduced to the glories of corn as a primary decorating tool by Doris Gerlach, local corn volunteer.
Best Local Beer

Elk Poop – Custer, WY
Colorado Red Ale – Paonia, CO
Best Local Spirits

Bourbon – The winners are in the exact order in which we drank them and may have influenced our remembrance and thus decision.
Best Car Snack

Fresh Cheese Curds – We also enjoyed the battered and deep-fried cheese curd version but, do note, they are not available as a car snack
Chocolate–Covered Nuts (provided by Lee, Sheron and Margie) – We ate way too many of these!
Most Raucous and Fun Meal

Joe's Supper Club in Hotchkiss, CO – It was really Joe's garage converted into a one-room bar/restaurant that serves homemade brick-oven pizza to one group per night. Our rowdy, happy friends alone would have made for a really fun meal but Joe's stories and crazy antics definitely contributed to making this a raucous, memorable night!

People

Most Fun Fellow Inn-Mates

Hags on Nags from MN and WI at the Flying W Ranch for their friendliness and, frankly, their self-given group name
Pat and Jim of Denver, CO by way of TX at LeRoux Creek B&B. Pat, especially, was very friendly but insisted she really didn't like people or talking to them.
Friendliest Bar Patrons

Charlie and Joe – dirt biker buddies we met at a bar in Death Valley. Not only did they buy us drinks but they introduced us to reader-glasses with built-in flashlights on the side. Available at your local Walgreens!
Cutest Couple

Salsa-dancing Jerseyans we met at Niagara Falls
Best Doctor

Dr. Firestone (aka Dr. Red) of Kansas City, MO – because he initiated a photo re-enactment of Glenda's x-ray review for the blog
Best Waitress

Melissa – of Pufferbelly Restaurant in Erie, PA for her prompt service, tourist suggestions and educational tour of old fire equipment (especially the round target to jump into from a window)
Linda – nose-ringed breakfast waitress at Badlands National Park who was friendly even before we had coffee
Most Dedicated Park Ranger

Betty (not her real name) – at one of Yellowstone's entrances who craned her neck to ensure the park pass photo matched the car passenger (Glenda) and interrogated her as to address information. Betty had zero tolerance for park pass fraud!!! This stood in stark contrast to Jason, a young dude Ranger, who waved us through without even a glimpse, apparently wildly unconcerned about park pass fraud.
Mike – a Ranger at Truman's home was a study in contrasts. He vigorously protected the floors of the home by insisting that our feet not stray from the designated pathways yet graciously removed his hat for Glenda to have a photo opp. Surely, appearing in public without the Ranger headwear (and/or letting someone else wear said headwear) is an infraction of some section of the Ranger code!
Most helpful hotel/motel clerk

Tom (we think this was his name) – at Holiday Inn Express in Custer, SD who rang our room to let us know that a light was on inside the car we had parked in the lot. Definitely saved us a call to AAA. Thank you, Tom!!!
Martha (not her real name) – worked the front desk at the Hampton Inn in Fairmont, MN. She went above and beyond, giving us restaurant recommendations, menu suggestions, directions to walking paths. Just very nice.
Surliest hotel/motel clerk

Holly (n h r n) – at El Colorado in Manitou Springs, CO fit in with her surroundings – unfriendly, cold, creepy. We loved the town but the motel gets a definite 2 thumbs down.
Jim (n h r n) – in Jackson, WY was an aloof, uninterested, unhelpful front desk manager. Don't think he should be in the hospitality industry!
Best performance in a service industry

Our wine hostess/retired flight attendant at Picchetti's Winery in South Lake Tahoe, CA. She carried on even with a computer glitch and deftly conversed about politics without offending anyone. Very well done!
Our Jiffy Lube technician in Las Vegas, NV. He was knowledgeable about Subarus, gave great directions and was generally a pleasant guy.
Worst performance in a service industry

Our waiter, Kenneth, at the Old Faithful Inn. He was not only inefficient (we waited eons for our food and he totally forgot our wine) but was just flat-out strange.

Animals

Cutest Animal

Prairie dogs – in the Badlands – standing, jumping and squeaking
Location with the Best Animal Noises

Yellowstone – elk calls. The buck bugled away with his mating calls and the cows ignored him and talked amongst themselves.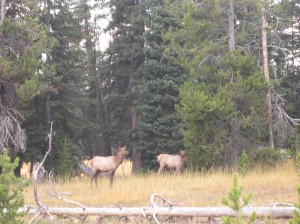 Location with Best Animal Sightings

Grand Teton National Park – saw moose, bison, bear and evidence of beavers
Best All-Around Animal

Bison – What can we say? They were just spectacular.
Best Fishing Hole

Dan's ranch in Hotchkiss, CO. It's kind of hard to not catch a fish since there are ponds on the property that are fed by the neighboring trout hatchery.
Best Tour Experience

We took a tour with Monument Valley Safari and our Navajo guide was Brian. It's a special place and Brian was fantastic! He was knowledgeable, interesting, funny and, on top of that, he drummed and sang.  Only downside was Glenda and Sue simply could not chime in and join the Navajo singing! Wow!
Maid of the Mist – in Niagara Falls was hokey but still the best way to get a sense of the power of the Falls. Amazing.
Best Accommodations

Our cabin at Badlands National Park, SD. It was new, designed well, fully-equipped, clean and in a beautiful place. What more could you ask for?
Worst Accommodations

El Colorado Motel in Manitou Springs, CO. It looked interesting from the outside but inside it was just skeevy. Dingy, print sheets (thread count? Maybe 5) that didn't fit right. A scary bathroom. And even scarier fellow motel guests. We won't go into details… Suffice it to say – avoid at all costs.
Best Bowling Lanes

The Corner Alley in Cleveland, OH. Glenda wore proper bowling attire but, regrettably, it did not help her score. Sue, sporting a dress, might have cracked 100. Who bowls in a dress?
Best Museum

Red Light Museum in Virginia City, NV. The "museum", located in the basement of a Chinese restaurant, included displays of turn-of-the-century sex toys, condoms and brothel paraphernalia. Surprisingly entertaining and interesting!
Museum of Westward Expansion in St. Louis, MO located under the Arch. Anything and everything you'd want to know about Lewis & Clark's expedition and the world events that prompted it. We didn't have enough time here and would go back if we could!
Best Tourist Trap

Virginia City, NV. In some ways, this is an anti-Disney Disneyesque town. Home of the Bucket o' Blood saloon, Red Light Museum, and annual Outhouse Races. It was a last minute addition to our route but well worth the stop.
Place Visited with the Smallest Population

Emblem, WY – population 10. How does a town with population 10 even get a government-provided sign on the road?
Place Visited with the Largest Population

Las Vegas, NV (city) – population 583, 756
Best Spa

Ceasar's Palace (BTW, also the only spa!)
Kitschiest State

South Dakota – SD had so many kitschy aspects that it was an easy winner. Corn Palace, Wall Drug, many giant animal statues, billboards everywhere, bronze presidents, granite presidents, plastic dinosaurs, and more.
Minnesota – We loved seeing the Jolly Green Giant and Little Green Sprout and hated to miss one of the world's largest balls of twine.
Best Stamportunity

The Badlands – Our first public stamping elicited howls of uncontrolled laughter. Who knew stamping could be so much fun?
Grand Canyon – We got 7, count'em 7, stamps at different locations throughout park. It was challenging but we were up to it!
The Bourbon Trail – Drinking and stamping are condoned and, in fact, encouraged. Yay!

Things

Best Performance by a State Tourism Bureau

Nevada – The Welcome Center provided us with a CD with music and fun facts to amuse us as we drove through the stark Silver State. It so surpassed the typical tri-fold paper brochure. Just thinking about the jaunty music has us hitchin' up our britches and callin' for our ponies!
Best Tacky Outdoor Art

Steer Head – This giant head elicited gasps from both of us as we saw it in a tacky sculpture garden directly on Highway 90. Who is the artist? Why??? We figure it was for our driving pleasure. We were visually pleased.
Most Beautiful Outdoor Sculpture

The Gateway Arch in St. Louis, MO – The sun gleaming on this exquisitely simple structure is absolutely lovely. We were lucky enough to be there on a bright day. It's mesmerizing.
Best Betting Results / Luckiest Venue

Keeneland, KY – We are happy to announce that we won enough from our betting on the horses to pay for our shots of bourbon.
Best Presidential Interaction

Glenda back-to-back with Harry S. Truman – This interaction beat out the bronze presidential statues of Rapid City, SD (2nd place), the carved faces on Mount Rushmore, the boyhood home of Abe Lincoln (which was closed), and Thomas Jefferson who was a footnote at the Museum of Westward Expansion.
Best Stranger Photo Shoot

Glenda's portrait of "Fake Bono" at Las Vegas sushi bar over Sue's left shoulder
Glenda's portrait of "Mountain Man" at the Ritzy luncheonette over Sue's left shoulder
Honorable Mention goes to the professional photographers (total strangers to us) at the Truman Presidential Library who approached and asked if they could photograph us for pictures to update their brochures and website. Of course we happily complied!
Best Giant Nose

Thomas Jefferson's at Mount Rushmore – We both easily agreed that his were the best nostrils, too.
This was a very close race and the winner eked past the others by a giant nose.
Most Unusual Sign

The Urine Palette – A picture is worth a thousand words. See photo from Death Valley below.