Here's the email we sent informing the winners of their Thel-ise award:
Dear Sir/Madam:
In the fall of 2012, we went on a 6-week cross-country trek, driving some 8,500 miles from New Jersey to California and back (think middle-aged Thelma and Louise without the dreadful ending). We blogged about our adventure all along the way.
As a happy recap of our journey, we have created our own awards to acknowledge the good, the bad and the ugly of the trip (mostly all good!). We are writing to let you know that you/your company/organization/state/location are a winner!!!To check it out, please go to our blog – jerseyjunket.com – to the post entitled "And the Award Goes to…".
We hope you enjoy reading it; we certainly had fun putting it together. Have fun!
Here are the responses:
Bourbon Trail People
An honor for sure! Thanks so much!
We can only hope Bourbon beat out Elk Poop
Dr. Red's (i.e., Dr. Firestone's) Practice Manager
Glenda,What a trip! Thanks for sharing your blog. And I'm glad that you found your way to Oklahoma Joe's. Regards, Jim
From the Mayor Sam Kooiker of Rapid City, SD
Glenda, We are honored. Thank you! One of our council members is from Paterson, NJ. I am including Ron Sasso on this message. Also including Michelle Lintz from our Visitors Bureau. Best wishes to you. Sam
From Council Member Ron Sasso of Rapid City, SD
Hi! Yes, I moved out here over 20 years ago. Many years ago I took a solo trip cross country, taking back roads and camping along the way. I covered a lot of the areas you did. I fell in love with the beautiful Black Hills and the surrounding area. My wife (who was my fiancee then) is also from NJ. We took a trip out together and then made the move right after we got married. We have absolutely no regrets on the move as it has been wonderful!
We still have family in NJ and get back once a year. Usually we'd stay at the Jersey shore for a week in little beach houses in Lavallette (Ocean Beach). Most of the houses we stayed in the past few years were destroyed by hurricane Sandy.
Please come out and visit again. Did you get a chance to see the Badlands at night with a full moon? That is one of the most spectacular sights to behold.
Best regards,
Ron Sasso
From Rapid City Mayor's Office
Hello and thank you for the email informing us of your blog and trip. It was so fun to read – what an amazing experience you had 🙂
Mayor Sam Kooiker was wondering if you could supply us with an address so he could send you both a card.
Thanks so much,
Sarah Diaz
Office of the Mayor
Rapid City, SD
Sarah.Diaz2@rcgov.org
605.394.4110
From Clinton's Sweet Shop in Independence, MO
I wanted to thank you for the award to Clinton's Soda Fountain.  We truly appreciate the time you spent at Clinton's.  It was a very interesting Blog post.  I was hoping we would be able to post it to our facebook to promote your blog as well as our award you bestowed.  Please let me know.  Once again thank you.
Sincerely,
Austin M. Ré
McClain Companies
Director of Operations
From Jiffy Lube
Dear Susan,
Thanks for taking precious time out your busy schedule to send such a lovely feedback response. It really makes our day to hear that you had a good experience at one of the Jiffy Lube locations. We are glad that your visit was such a positive experience, and I know when we send this compliment to our marketing department, this will definitely put a smile on their faces. This will really let them know that the services they provide and all the hard work they do makes a difference to the customer and is appreciated. We look forward to serving you in the future. We think you are one awesome customer, so please have a great day.
Thanks Again
JLI Customer Service
From Hewlett Packard
Subj: RE: Feedback to CEO and President Meg Whitman from Susan Johnson
Hello Susan,
Good afternoon and happy Monday. I wanted to take a moment to send you a personal "Thank you" for the wonderful Email and also the mention on your trip blog. Your message and your website/blog have been shared broadly inside HP and you have made the day for our entire HP Calculator team world-wide!
Thank you again and I hope for many more years of happiness with both HP 12c's and be sure to take them on your next adventure and let us know how it goes!
Best Regards,
Charles Radman
HP Calculators
Have it all: HP Accessories & Services.
From the Grand Canyon
From: GRCA Information, NPS <grca_information@nps.gov>
Date: Mon, Jan 28, 2013 at 1:11 PM
Subject: Re: From NPS.gov:
To: glenda.hoppe@verizon.net
Thanks for the link!
Grand Canyon National Park
From Leroux Creek Innkeepers
Hi Glenda and Sue,
So great to hear from you. WOW–what a trip–awesome. I guess we did not realize you were on such an adventure–looks like you had a lot of fun! Thanks so much for mentioning us-
we loved having you at the Inn. Glenda how is your wrist–I guess it was part of the adventure–hope it is all healed!
I can tell you are from the East–2 great hot dogs stands along the way! We did not read everything–but we will. Thanks so much and much success & fun with your blog!
A bientot,
Joanna & Yvon
Leroux Creek Inn & Vineyards
970.872.4746
info@lerouxcreekinn.com
www.lerouxcreekinn.com
12388 3100 Road/ PO Box 910
Hotchkiss, CO 81419
Subaru Thread
From: dearsubaru@subaru.com
Reply-to: CustDlrServices@subaru.com
To: fjohn376@aol.com
Sent: 1/3/2013 2:33:48 P.M. Eastern Standard Time
Subj: RE: Owner Story – Dear Subaru
Dear Susan Johnson:
Thank you for your recent e-mail to Subaru of America, Inc. We appreciate you taking the time to contact us and sharing your owner's story with us.
I am SO jealous of you and Glenda, Susan. If I could go back to my early 20's, that is the trip I would take. Oh well, I guess I can wait until retirement. Best part, is it was you and your girlfriend. I would leave the wife at home and go on the road trip with my best friend too. Now my road trip to Disney seems like nothing. But, it is Disney still. (If you could see the smile that is on my face, you would be so happy, Susan. I love stories like yours!)
It is always nice to hear from our owners about their positive ownership experiences with our vehicles. As you can imagine, many people tend to contact a company only when they are unhappy about a particular situation. We find that it takes a very special person to take the time to send a compliment about a product that has given such great satisfaction.
Thanks again for sharing your story, photo and blog. I wish you all the best on your next adventure!
Sincerely,
John J. Mergen
Subaru of America, Inc.
Customer/Dealer Services Department
1-800-SUBARU3 (1-800-782-2783)
Service Request #1-2952600642
From: FJohn376@aol.com
To: CustDlrServices@subaru.com
Sent: 1/3/2013 2:55:12 P.M. Eastern Standard Time
Subj: Re: Owner Story – Dear Subaru
Hi John:
The Tribeca was great and of course we appreciated that as we didn't want to have to cope with car trouble. We had enough trouble with pretty much everything else technology-wise on the trip 🙂
We are finalizing the post script to our blog which will have more Subaru mentions I'm sure. I'll send another post when we are done.
Thanks and even if you have to wait until retirement…go for it!!!
Susan
P.S. Glenda and I are so ready for our close-ups in the next great Subaru commercial :)))
—–Original Message—–
From: "Subaru of America, Inc." <CustDlrServices@subaru.com>
To: FJohn376@aol.com
Sent: Fri, 04 Jan 2013 8:18 AM
Subject: RE: Fwd: Owner Story – Dear Subaru
Hello Susan:
Thank you for your messages.
Yes, please do send me a message when your post script is completed. A copy of all Owner Stories is received by our Marketing Department. We receive a copy too in order to reply to the customer's email.
Oh, I am sure that I am going to do it when I retire. Hope I have a Subaru to do it in too. Not sure what other vehicle I would be in to be honest! Have a great weekend, Susan.
Sincerely,
John J. Mergen
Subaru of America, Inc.
Customer/Dealer Services Department
1-800-SUBARU3 (1-800-782-2783)
Service Request #1-2952600642
---
From Dr. Ing Texas A & M Dept of Animal Science
(OK she was not technically a winner at the time but now she is with such great to-the-point answers to our cow questions!)
Thanks for your interest….
1. Cows can live in the wild….there are feral cows in Florida where the land is swampy and not fenced.
2. Don't know, probably not. But few cows are kept to very old age (30 years…)
3. Grass fed beef is leaner and doesn't taste as good because fat gives the meat a lot of its flavor. So health experts would tell us to eat grass fed beef as would environmentalists because cows naturally eat grass and there are many other uses for corn, soy beans, and other things that go into grain-feeding at the feed lot.
Nancy H. Ing, DVM, PhD
Associate Professor
Department of Animal Science
Texas A&M University
College Station, TX 77843-2471
(979)862-2790
Fax (979)862-3399
http://animalscience.tamu.edu/ning/lab/
Office: Kleberg 410E
From Yellowstone
From: YELL Web coordinator, NPS <yell_webcoordinator@nps.gov>
Date: Mon, Jan 28, 2013 at 9:03 PM
Subject: Re: From NPS.gov: Travel Blog
To: glenda.hoppe@verizon.net
Thank you for the link to your blog. I really enjoyed the comments and will pass them on to our management. Looks like an amazing trip!
Peggy Olliff
Web Tech
Yellowstone National Park
From Woodford Reserve Distillery
Hello Susan,
Thank you for your interest in Woodford Reserve and for sharing your website with us.
This. Trip. Looked. Epic! What a wonderful idea to travel the country AND keep an online record of your journey. We're honored we made the list, and that you took the time to visit our historic Distillery. You're welcome back any time!
Cheers!
Kiernan
From NJ Division of Travel and Tourism
From: "Karr, Colleen" <Colleen.Karr@sos.state.nj.us>
Date: Jan 30, 2013 12:12 PM
Subject: NJ Division of Travel and Tourism
To: "glenda.hoppe@verizon.net" <glenda.hoppe@verizon.net>
Thank you for contacting New Jersey Division of Travel and Tourism and thank you for sharing your blog with us. I have forwarded your email around to the staff here at Tourism.
Colleen M. Karr
Grant Administrator
NJ Department of State
Division of Travel and Tourism
225 West State Street
PO Box 460
Trenton, NJ 08625-0460
609-984-9413
609-633-7418 (fax)
colleen.karr@sos.state.nj.us
From South Dakota Department of Tourism
Dear Glenda and Sue (Thelma and Louise)!
My staff and had a blast reading your blog!!  We even posted it on our Facebook account.  THANK YOU for making South Dakota one of your stops on your amazing journey!  And THANK YOU for the awards you gave us!  Come back and see us again!
Wishing the both of you all the best in 2013,
jim
James D. Hagen
Secretary
South Dakota Department of Tourism
711 E. Wells Avenue, Pierre, SD 57501
605-773-3301  |  james.hagen@travelsd.com
www.TravelSD.com  |  www.SDVisit.com
artscouncil.sd.gov  |  history.sd.gov
Follow me on Twitter @SecJimHagen
From Keeneland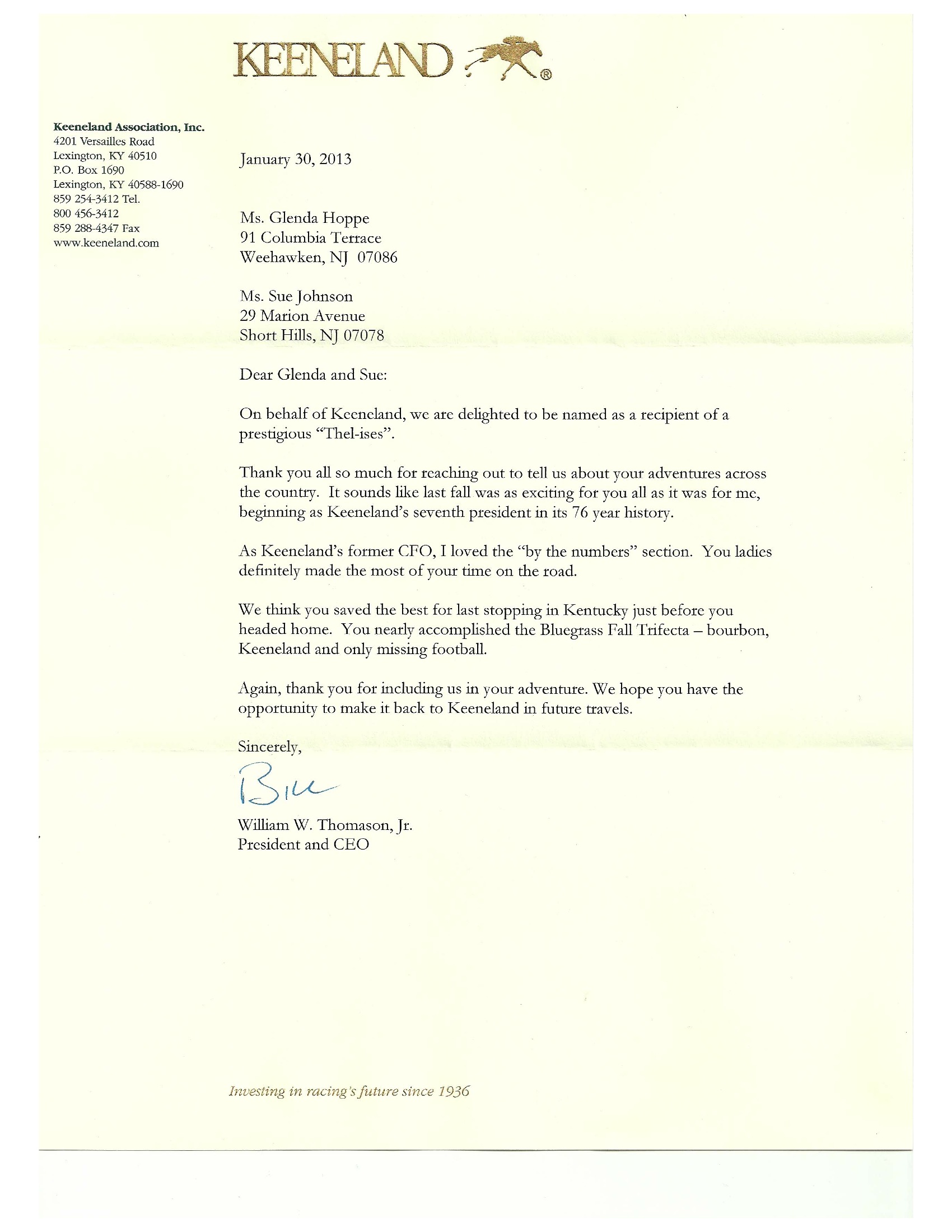 Thank you, Keeneland!