Morning: geyser trail. Saw Old Faithful erupt, then got our 5th park stamp. Woot, woot! Headed out on a boardwalk trail passing many different geysers,hot springs, pools and other thermal features. The earth is bubbling, burbling, boiling, belching, spitting, spouting, spritzing, and steaming. We learned that you have to stay on the boardwalk because you can fall into these thermal pits and boil to death! The geysers fill up, roar, bubble, spout and then drain. The pools are multi-colored with vibrant blues, oranges, greens and yellows. Some are mud pits with boiling mud baths and some are dry steam vents that vented like the NYC subway.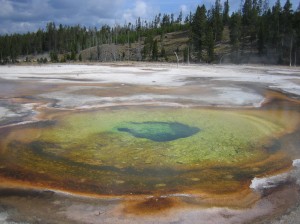 After a picnic lunch, we viewed the Yellowstone canyon and falls. The Lower Falls are apparently twice as high, but much narrower than, Niagara. The canyon was impressive, huge and yellow.
Finally, on our way back to the lodge, we drove through the river valley part of Yellowstone. This meant more animal sightings. We saw the now mundane bison and a couple of new animals: wolf and fox. We looked desperately for a bear but no success yet – maybe tomorrow. Saw the elk and his harem again, too.
Jersey Junction
So we saw a Jersey car parked next to us at breakfast this morning. It was packed to the gills with all kinds of stuff, in every seat, in every crevice of the car. Plus, there was a box on the top and one on the back bumper. We went over to investigate, thinking this might be our junction. But when we looked closer, we saw the top of a guy's head peaking out from under stuff, still asleep. We screamed and ran away. Hmmm – maybe not the time to talk about Jersey.
Theme of the Day: The 5 Senses
We saw the vibrant colored pools, heard the gurgling geysers, felt the steam give us facials, smelled the rotten-egg smell of sulphur from the geysers, and tasted elk meat. All good.
Up Next: Jackson, WY