Breakfast with our fellow B&B residents followed by yoga with Rodney.

Off to Sleeping Bear Dunes for the 3.0 mile Dunes Trail hike. Sand, dunes, vast open spaces, rolling hills, beach grasses waving, and glorious views of Lake Michigan. Wiggled our toes in Lake Michigan which was cold but not frigid.
Next, off to old fishing town of Leland, MI. Walked around town and yes, did some shopping! Old fish town shacks now have some cute shops. Checked out Carlson's fish house – sampled the fish sausage – surprise, we loved it!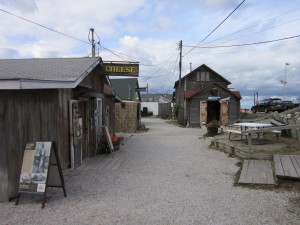 Headed further north to Northport and onto Sutton's Bay, all towns on Lake Michigan. These towns remind us of a much lower key Nantucket or Hamptons area. Sutton's Bay was hosting an antique car show with many parked on the street. Cool!
Did you know Michigan produces wine? Similar to the Finger Lakes area of NY, the Michigan North Country is home to many a vineyard. We tried out Black Star Farms vineyard. Tasting and buying. Pretty good! Mario Batali is a local fan.
Last stop was at Cherry Republic. Michigan is possibly the largest cherry producer in the world. In our little B&B town, there is the retail homage to all things cherry. More shopping. Yum!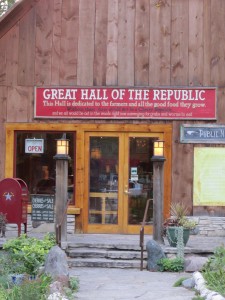 Jersey Junction
At the Black Star Farms vineyard tasting center, our server/advisor was Kevin. When asked what came to mind when asked about Jersey, he's reminded of happy days at the beach in Ocean City where he spent some time as a kid. Here's a nice story from Kevin: About 50 years ago his uncle went on a high school trip to Ocean City and lost his high school ring in the sand at the beach. His uncle died in his 40's. Flash forward some years and Kevin's dad (the uncle's brother) gets a call from a Jersey woman whose husband had found a high school ring at the beach. She tracked down Kevin's father in the Philly area and returned the ring by mail. Kevin's dad sent it on to his nephew. What a sweet story! Jersey people done good.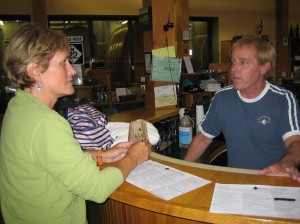 Theme of the Day
Fruit! Grapes, cherries, apples, pears
Next Up
Grand Rapids and Holland, Michigan