Morning walk to lake's edge in Glen Arbor; breakfast at Glen Arbor Bed & Breakfast
Headed south towards Grand Rapids and passed a veritable parade of antique cars headed north. Lots of Model-Ts and tin lizzies.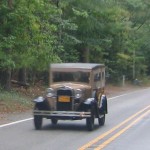 Drove to Lake Michigan to the home of Sue's new BFF, Tinker. Sue's son Mac and Tinker's son Nick, became friends their first day at Tufts. Sue and Tinker met for 20 minutes at the matriculation event, discussed the upcoming cross-country travels and Tinker promptly invited us to stay with her in Michigan. Imagine her surprise when Sue texted her and said, "We're here in Michigan! Can we come over?". Tinker, recovering from her shock, graciously invited us to stay.
Annually, Grand Rapids hosts an art contest called ArtPrize. Artists from all over the world display their work and compete (based on public voting) for a $250,000 prize given by the heirs of Amway. We went to several of the venues, checked out their works, voted, and thoroughly enjoyed the public art display.
After dinner downtown, we managed to get our mugs on the 11:00 news (Today Show-style), went home, offered our decorating advice and rearranged all Tinker's first floor furniture. She still let us stay.
Jersey Junction
Tinker is originally from NJ – born and raised in New Vernon. No wonder she's so nice!
At dinner, Tinker told us a fascinating Jersey story. A relative, Hiram Blauvelt, was the son of a wealthy coal businessman. Not having to work, Princeton-educated, Rhodes-scholar Hiram traveled the world as a big-game hunter and became a wildlife art collector. When he died his estate, which included a carriage house-full of wildlife art and taxidermy specimens, was left to a foundation that Tinker's father and family would manage. A visit to the Hiram Blauvelt Art Museum in Oradell, NJ will definitely be on our must-see list when we're back home.
Theme of the Day: Art
Next Up: Madison, Wisconsin
P.S. This Michigan weather is wild and wacky. So changeable! Reminds us of weather in New England!