Off we go after a quick photo op at….Jersey Junction…in E. Grand Rapids.  En route to Madison, WI home of Glenda's niece Laura and her roommate Cory.
A 4 state trek: MI, IN,IL, WI.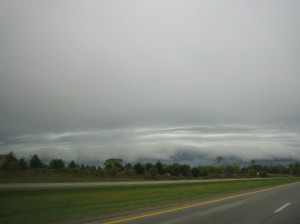 Crazy gas stop on the border of IN and IL.  There must have been 24 pumps and 100 cars lined up every which way facing all directions, backing up, inching forward, turning around and then parking at the pumps for what seemed like hours .  Later we discovered that the gas there at our chosen Shell station was a full 30 cents per gallon cheaper than other area stations.  Frank, Value Man would be proud!!
Stop for Teutonic fare in Rockford, IL: Der Rathskeller
Arrive in Madison–Badger Land!  Tour the campus and the local town.  A sea of red sweatshirts everywhere!  Badgers win over UTEP.  All good in the cheese state.
Dinner at a local restaurant with Laura, her dad Dave and roommate Cory.  Sue tried her first cheese curds!!  Yummy!!
Jersey Junction
Laura, as a transplant from Jersey, is often teased by her midwestern friends about being from Jersey and all that goes with it.  According to them she is confrontational, outspoken and independent thinking. When she spoke up to a waiter about the awful service her friends were horrified.  Now the new phrase is: Laura are you going to go Jersey on us?  Show some Jersey attitude!
Jersey Rules!!!
P.S. Cory, from northern Wisconsin, thinks midwesterners would actually like to be a little more Jersey!
Theme of the Day
Cheese!!
Next up: South Dakota here we come!!