Seems like a hundred years ago we were in Niagara Falls…..
First day of rain..big rain.  Yoga with Rodney.
Full breakfast and on the road, Rte 80/90 toward Indiana and Michigan.  Listening to new CDs purchased at the R&RHOF: American Roots music.  blues/bluegrass/country/gospel/cajun/zydeco etc etc.  We belted out along especially with the gospel favorite Ezekial Saw the Wheel and Dry Bones.
Rain rain off and on and an autumn chill in the air, we arrived at the National House Inn, Marshall MI – adorable B&B.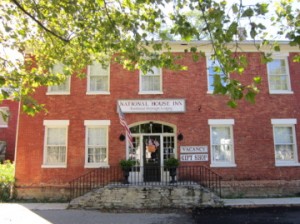 Self-guided walking tour of Marshall and its historical late 1800's houses and buildings.
Cocktail hour/dinner at the Dark Horse Brewery–cool–the regulars have their own personal mugs hanging from the ceiling for their use.  Delicious micro brewery hand-crafted beers and good Michigan company to boot.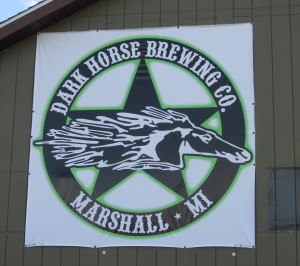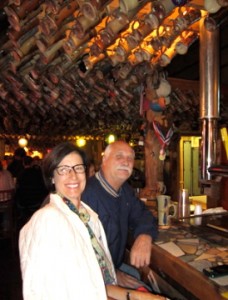 Met Thomas a local retired and then re-employed tail pipe maker.
Jersey Junction
After arriving at the National House Inn, we went into the dining room for tea and cookies.  In walked a couple asking "who went to Tufts?".  Judy, class of '71, and her husband Jack from Illinois are touring around Michigan too.  How funny to run into a fellow Jumbo in the midwest!  Jersey Junction?? Judy lived in Lincoln Park, NJ working for an insurance company after graduating Tufts.  Go Jersey!!  Go you Jumbos!!
Theme of the Day
Small town America
Next Up: Glen Arbor/Sleeping Bear Dunes, Michigan