We are on our photo game today – lots of photo opps. Enjoy! En route from Dodge to the Flying W we followed the Santa Fe Trail and arrived at THE MIDDLE. Kinsley, KS – halfway between San Francisco and New York City. 
We stopped at a National Historic Site (yes, another stamportunity) – Fort Larned in Larned, KS. This was a military fort, protecting the frontier and trade routes. Glenda and Sue were really into the whole history here during the mid-1800's. Shout out to cousin Bob Allison – U.S. History Professor – we have questions!
On the road, we saw field after field of crops we didn't recognize along with grain elevators we don't understand. Shout out to Mary and Roger Blanken or anyone with farm/western knowledge – please explain. We also saw unfamiliar equipment and structures.
 We finally turned off Route 50 to Road G, our road to the Flying W Ranch. We are staying in one of two bunkhouses on this 7000 acre working ranch and guest lodge. The other bunkhouse is occupied by 9 Minnesota farmer women who brought their own horses to ride the trails and experience ranch life for a week. They call themselves "Hags on Nags". Perfect! We will get along fine. (Sheron and Margie H – other than the major differences, the hags remind us of you and your girls. All good.) The ranch is rustic but charming and loaded with amenities and great country views. We took a short hike uphill and got back in time for a horse-drawn carriage ride. The hags joined us. Here are our pictures at the Flying W: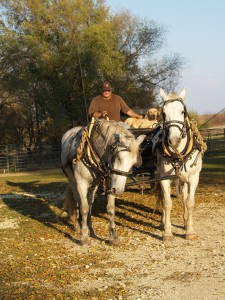 Our hosts, Josh and Gwen, couldn't be nicer. Josh cooked us a great steak and potatoes meal, brought to our bunkhouse.  Shout out to Bob Mallow who set us up at the Flying W and more to come. Yay, Bob!
Jersey Junction
Fort Larned – we checked out the 1870 Census to find 2 NJ-born residents. Alfred Woodhall, post surgeon (we assume a Princeton grad – or UMDNJ?) and Patrick Kelley, a Private with Company K in the army. Long ago Jersey people.
We asked the hags if they'd ever been to New Jersey and 3 of the 7 in our carriage had been!
Theme of the Day: Farmers and cowboys are friends
Up Next: Overland Park, KS