First things first. Last night we tried to see Glenda's elbow on the CBS show "Elementary" but, sadly, we tuned in too late.

Casino breakfast with all of the crazy gamblers so we had to drop a couple of ten spots in the slots after breakfast. We were regretting our missing the Red Light Museum yesterday so we decided to head to Virginia City. And we were not disappointed. This is an old mining town kind of left as it was. Somewhat Disneyesque but the lower, rougher version for sure. So glad we came here! We wandered down the old-fashioned main street to the Mandarin Garden Inn – home, downstairs, of the Red Light Museum. Here was a treasure trove of information and exhibits from the swinging late 1800's in Virginia City's boom mining days – prostitution in full swing.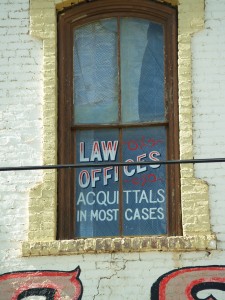 The trip to Virginia City was 7,000 feet up a windy, scary road. Now, back down on the other side, through Silver City, Carson City and, ultimately, to South Lake Tahoe, CA. A new land full of pine trees and the big, beautiful lake.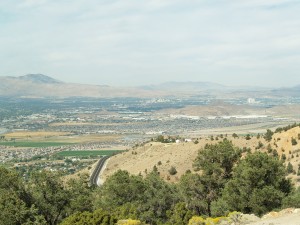 Based on a friend's recommendation, we headed to Pichetti's wine tasting on the main drag of South Lake Tahoe. Good wine and our hostess, a former flight attendant, was friendly and chatty, another new BFF.
Back to our "green" hotel and off to dinner at the local golf course (our flight attendant/wine hostess' recommendation). Nice outdoor tables with a view of the golf course and the lake. Here is our picture taken by a tipsy, former, 1970's, casino photographer's helper (so she said). We think she thought we were a couple (look at the hand pose).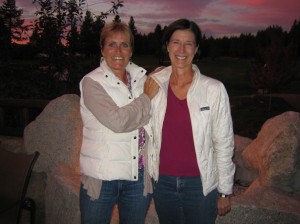 Jersey Junction
Today we bring you three (say it again), three, junctions. First, at the Red Light Museum, did you know that 3 out of the 6 brands of condoms exhibited from the late 1800's-early 1900's were made in Jersey? Yes! Circle Rubber of Newark, NJ, Gems of Haskell, NJ and Smithies of East Newark, NJ. Plus, we think more of the brands may have been Jersey based as well. We'll research and revert.
Second, our happy flight attendant/wine hostess has flown out of Newark many, many times. First thing out of her mouth was, "I like New Jersey! I've been to the shore. I love it!" Plus, she was generally cool, we discussed politics and she referred to us as Thelma and Louise, unprompted, and gave us a hug goodbye.
Third, our hotel clerk? From Piscataway, New Jersey. Things are ok here in South Lake Tahoe, CA but he is already looking to move out. The California schools, according to him, not so good compared to … Jersey.
Theme of the Day: Red Light, Green Light
Next Up: Yosemite National Park and a stamp 🙂