Last minute decision to try Reno – "The Biggest Little City in the World" just because we have never been there and don't know a thing about it.  First we hit Hickison National Forest along route 50 (the loneliest road in America).  A short hike led us to great views of the valley and petroglyphs.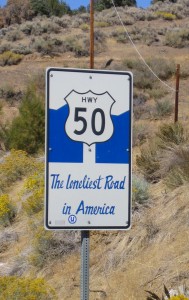 We stayed on route 50 and headed to Austin, NV pop. 300.  We stopped at the Austin post office for stamps and were treated to quite a long conversation with a local.  He started the conversation by asking us about the postal rates–perhaps we looked like USPS employees?  And as the primarily one way conversation rambled we learned he is not an original local.  He called himself a" prune picker" aka a Californian.  But he has been in Austin since he graduated high school and he has definitely had many years on him since then.  He did recommend an alternate route off of Highway 50 that turned out to be a good recommendation.  We stopped for lunch at one of the two restaurants in town, looked in a rustic gallery/jewelry shop and drove off past our new friend and a woman sitting in front of a store on the main drag.  He gave us a big wave on our way.
** Here's where he really endeared himself to me–discussing how his wife finally kicked him out after he told her one too many times that her hair was too short and her ass too fat.  He said this while comparing her hair to mine but tried to smooth it over by indicating that my ass wasn't that fat.  He also mentioned that he had been hit on the head 3 times at his work which may have contributed to his unchecked outbursts.  Maybe.
We continued on our way through Fallon, home of the US Navy "top gun" Air Station.  We saw a plane flying around there too.  We also passed by Sand Mountain, a giant sand dune sprouting in the desert not far from the Navy Air field.  We are always crunched for time and I'm sorry to say we missed both the Red Light Prostitution Museum and the Bra Chandelier in Virginia City, NV.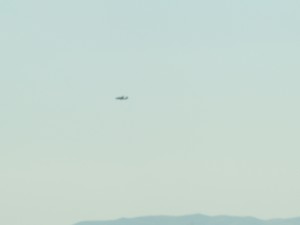 Made it to Reno and checked into one of these casino hotels with bargain rates.  Still a lot of casinos here are abandoned–we are looking at an abandoned high rise hotel from our window.  Similar to the towns along route 50, it's a boom and bust situation–silver, gold, lead, gems mined created booms in the 1800's and early 1900's but it was over in a flash.  Looks like Reno may have experienced some of the same.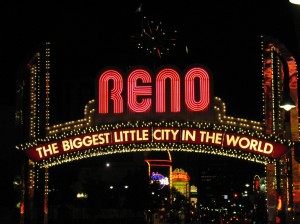 Jersey Junction
Back to our talkative "prune picker" who also taught us another term: "rubber tramp" for one who sleeps in his car, meaning what he did after the wife threw him out.  He mentioned that one of the 300 souls who live  in Austin is originally from Jersey.  Amanda is Portuguese and may be from Newark (he didn't recognize the town name but we figure it's a good guess).  But how she ended up here in Austin NV?  Who knows?  We didn't get to meet Amanda but she's out there!!
Theme of the Day: Boom and Bust
Up next: Lake Tahoe
p.s. Shout out to Nevada bureau of tourism…the lady at the welcome center gave us a CD to listen to with info about Nevada.  It was really good and informative about these little towns along the old Pony Express route.  Best thing we got from any of the states so far!!