OK, so another trip for Calamity Jane (aka Glenda) to the local clinic.  This time, a slip and fall and a possible sprain/break of the wrist.  Although the doctor was named something else, we harken back to Jackson and Dr. Blue.  So since all docs out here are colors, we refer to this one as Dr. Yellow.  Dr. Yellow took an x-ray, wasn't sure if it was broken or sprained, but gave her a splint and icing and Advil instructions.
But Glenda can still walk and trooper that she is, she was ready for a hike.  We had breakfast and watched as people came to pick the grapes at the B & B vineyard.
We drove to the Black Canyon of the Gunnison in Gunnison National Park.  A stamp!!!!  And a hike to a view at the edge of the rim.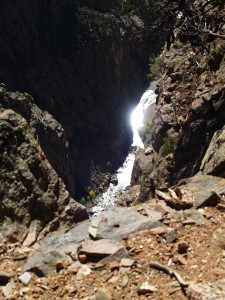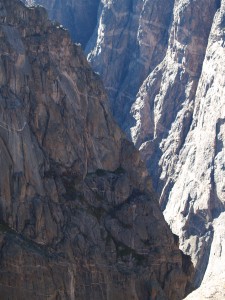 Later we stopped by Glenda's friend Dan's house here in Hotchkiss where her other friends Chuck and Inken were visiting for a fishing weekend.  A beautiful, contemporary, NY architect designed-house sitting on 200 acres with the Gunnison River running through it.  Sue tried her hand at fishing with no success but Chuck reeled in a big one!!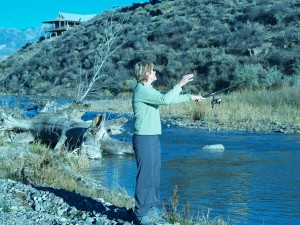 We had a raucous dinner party at some guy's house where he has a brick pizza oven and makes pizza for one group only in a room in his house.  Dan and Eve brought all the snacks, beverages and side dishes and Joe the pizza guy made the pizzas fresh in his oven.  The beverages were flowing and we had a long discussion about shooting guns which Sue desperately wants to do but might be too scared to try.  Joe apparently has many firearms of all kinds to shoot all kinds of things.  Hmmmmmm.
Jersey Junction
Dan grew up in Red Bank, NJ a full-fledged Jersey Boy!!  His friend Eve, a Phille girl, spent her childhood summers at the Jersey Shore.
Theme of the day: Colorado Outdoor Life, Hikin', Fishin', Huntin' (for a doctor)
Up next: Pueblo, CO
Not sure yet how to pronounce this state…Col o rahdo or Col o rado…like Nevada.  Anyone know???