Happy birthday, Frank!!!

We said goodbye to the gang at Dan's house. They had just finished harvesting the potato crop.
Potatoes and trout for dinner sound good to us!
On the road, we thought, to Pueblo. We drove on Route 50 through the Monarch Pass (elevation 11,300+). We think this is the highest we've been. It was dicey.
Drove through Canon City, home to 4 maximum security prisons, housing a couple of notorious criminals including: Ted Kaczynski, Oklahoma bomber Terry Nichols, the shoe-bomber and more.
Driving along, Glenda found a different possible destination in our book – Manitou Springs, CO. So here we are. Our motel/cabin is vintage quirky 1950's. A couple of sketchy motel-mates are a cabin or two away from us.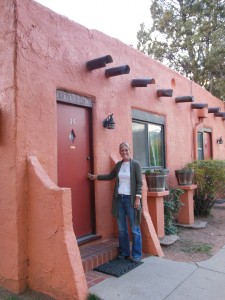 Manitou Springs has several springs, like Saratoga, and it turns out the town is a cute, western, friendly, funky town with a good vibe. We like it.
Jersey Junction
A new couple checked into the B&B last night and we talked to them at breakfast. Sue was surrounded by Bell Heads! Our couple both worked for the Bell System in the past and spent a few of those Bell years in Homdel, Matawan, and Freehold. They are from Nebraska and the land of wide open spaces. They thought NJ was a little too crowded for them.
Theme of the Day: Leaving the mountains behind…
Next Up: Dodge City, KS