Oh No!!!  Technical failure!!  Right off the bat this morning, Glenda's new camera (purchased on the road 2 weeks ago) broke.  A slit instead of an open lens.  Help!!!  So before we launch into the day's activities, we stop to exchange the camera.

Nema and Bob take us to Independence, MO the home of the Harry S. Truman Home National Park Site and Truman library.  First we check out the local town and then off for a tour of the home (a very big stamp day here…stamps for the home, the farm, the various trails…woohooo).
For the home tour we meet Ranger Mike, our guide.  Glenda, an aspiring park ranger, is secretly thrilled when Nema asks Ranger Mike to remove his hat to let Glenda try it on.  She needs to get a good feel for the uniform she may be wearing in her future employ.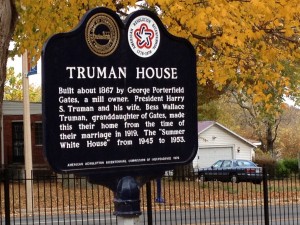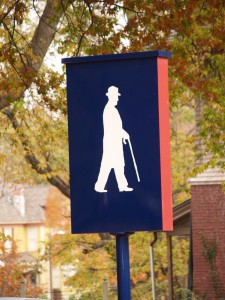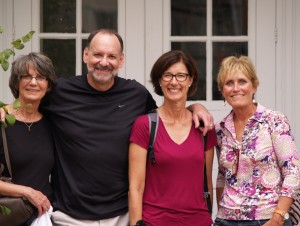 A few facts about Harry S. Truman:
-His middle name is only the initial S.  for both of his grandfathers
-He is the last president to not have attended college
-He was nominated as FDR's VP to replace the previous VP and became VP in Jan '45 and FDR died in April '45 so he became our 33rd President.
-Moved back to Independence after his turn as President and lived there until his death.
-We stopped back in town for ice cream.  Sundae and shakes for all (Harry worked here as youth when it was a pharmacy).
We arrived at the Harry S. Truman Library. Take in the movie and go through the exhibits. This is a really well-organized museum. So much happened in Truman's watch and he had so many big decisions to make. We took it all in. And then Glenda's new working life re-emerged as a PR woman asked Glenda if she would pose for some still shots for a potential brochure and website. She's back in front of the camera – all body parts were represented! Bob, Nema and Sue all barged in for their own stints at modeling. We think Nema will be picked as she played her role writing something out so very well.
We toured a bit of downtown KC and capped off the day with fabulous, true, KC barbecue at Oklahoma Joe's – a BBQ joint in a gas station – rated #1for ribs in the country by some. Best BBQ we've ever had!
Jersey Junction
In our quest to get Glenda a new camera, we met Zach, our Best Buy sales associate. He's never been to New Jersey but revealed that the first thing that comes to mind when asked about our fair state is the basketball team. He was a NJ Nets fan because of Vince Carter and knew all about the recent move of the Nets to Brooklyn. He also made us smile when he told us he would NOT mention Jersey Shore in answer to our question. Good man!
Theme of the Day: The buck stops in Independence, MO
Up Next: St. Louis, MO