40 days and 40 nights. Who knew we would actually make it this far?  The morning starts out with our usual slow start but we are pressed as we have to make Glenda's 4th doctor appointment of the trip.  As we have mentioned before, we are going to name all the docs with names of colors so this one, Dr. Firestone, is Dr. Red.  Nema takes the patient, Glenda, to the doc while Sue wanders around KC Plaza, a shopping center of southwestern architecture full of fountains and beautiful tile work.
Back to the doctor–yes the arm is broken–and now Glenda gets to pick out a cast–now called a clamshell splint made of Aquaplast (a low temperature plastic).  She selects Jayhawk blue. Why not?  When in Kansas…..
So once she is all fixed up, we say goodbye to Nema and head out east on Rte 70 to St. Louis.  Nothing to report on the way, just highway and we land at our hotel across from the Arch.  The Arch looks really cool, beautiful and huge!  We will explore it further tomorrow.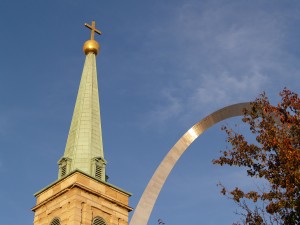 Dinner tonight we decide to try the "Little Italy" of St. Louis — "the Hill".  We take a cab which takes forever…through the city streets, highways, crossing rivers, on main avenues etc and we finally arrive at one restaurant.  No sign of a "village" like the little Italy we were expecting.  Oh well.  We eat at the restaurant and find out that Yogi Berra and Joe Garagiola grew up across the street from each other on Elizabeth Street here.  We walk over to find the street now named Hall of Fame Street.  Wow!!  The cab ride home takes half the time, half the cost and such a pleasant driver.  He advises us against taking the rickety capsule ride up the Arch to the top describing the awful ride.  We agree wholeheartedly and thank him for his wise counsel.  No Arch ride for us.
Jersey Junket
Today we have 2 junctions.  First, Carla, of hand therapy fame, announced that she was so impressed with customs at EWR.  She loved it.  So much better that London, apparently.  Second, Yogi Berra, a long time Jersey resident, of Montclair and late maybe of Caldwell, an icon…was raised here in "the hill" in St Louis.  5447 Elizabeth St.  Here is his house:
Theme of the Day: Arms.  Broken arms, great throwing arms, catching the great pitching arms etc.
Up next: Lexington, KY