We can't believe it's winding down. What a trip. This morning we go to the Historic Old Courthouse – scene of the Dred Scott trial. This is also part of the Jefferson National Expansion Memorial which includes the Arch and the Museum of Western Expansion underneath the Arch. The courthouse is beautiful – the Arch is elegant, simple, soaring and beautiful, really. We  enjoyed the museum also. It lays out the Lewis & Clark expedition and a whole timeline organized around the westward exploration and expansion. We find that Lewis & Clark are the original travel bloggers – we read their journal in the museum and find a lot of similarities to this very blog.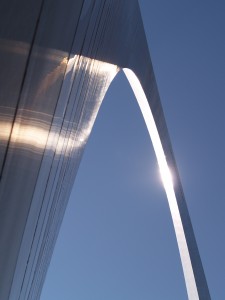 Time to get on the road, ultimately to Lexington, KY. We first hope to stop at the Abe Lincoln boyhood home near Evansville, Indiana. We arrive there at 4:30 only to find it closed at 4. Bummer. But all is not lost as we find we are 2 miles from Santa Claus, Indiana. So we still get some photo opps.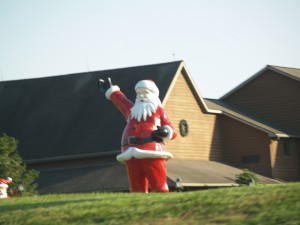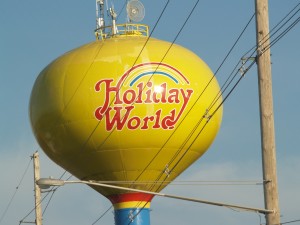 Back on the road, we stop briefly in Louisville, KY – home of Frank's late father, Malcolm Johnson. Malcolm was also a U. Louisville Law School grad. Louisville is, of course, known as the home of the Louisville Slugger, Churchill Downs – home of the Kentucky Derby – and Muhammad Ali, too.
All along the way today we decide to listen to Professor Allison's Teaching Company CDs on Early American History (Professor Allison is Sue's cousin Bob). Shout out to Bob – we are loving it and have many questions!
We arrive in Lexington. Glenda calls her good friend Lee's daughter Olivia who is a senior at U Kentucky now. At the last minute Olivia is able to join us for dinner. We have a great meal and enjoy hearing some of Olivia's stories about life in Lexington as a student at U.K. We also share some of our exploits. What a nice evening.
Jersey Junction
Olivia was born and raised in NJ. So she is a big time Junction. She loves NJ and is also enjoying her time in Kentucky. We may get her back to Jersey at some point.
Theme of the Day: We can't think of one; can you?
Up Next: Lexington again