Crazy Horse mountain carving.  The Lakota chiefs hired a Polish Bostonian to create a mountain sculpture of Crazy Horse.  The work started in 1947 and is ongoing today.  It is much bigger than Mt. Rushmore and totally privately funded so still being carved under the direction of the original artist's children.  Another amazing South Dakota site!
Random observation – loved the mixture of names of Crazy Horse Scholarship recipients – David Strickland, Regina Still Smoking, Ruth Afraid of Bear, Theresa Brewer, Maxine Broken Nose, Jerilyn Chasing Hawk, and Leo Her Many Horses. Also loved this real place – Crazy Woman Creek!
On our way to Wyoming we first stopped at Jewel Cave National Park and—yes–another stamp!!!  We opted to forego the spelunking and even skipped the hour and a half tour deep underground into the cave full of stalactites and stalagmites (we just wanted to say those words out loud).  But we watched the video and jewel-like it was!
Spontaneous decision along route 16 to head to Devils Tower a national monument and —-yes—-another stamp!!!  A most unusual rock tower with a lot of Indian folklore, a sacred Indian site with a fun tale of its origins.
Jersey Junction
Two today:
At a rest stop in Bumbleroot, Wyoming (seriously, we have no idea what the real name of the town was), Sue spotted a fellow Jersey vehicle.  Seeing as how we were the only other people/vehicle in the rest area, we approached them.  Yay Jersey!!!  They were from Pennington and on a similar cross country trip with their dog, Dora.  They were great to talk to.  They were worried about their Obama bumper sticker.  We all agreed it would be fine until Texas.
On the way out of Devils Tower, we were instructed to stop and wait for the Pilot Car.  What??  While waiting, we chatted up the nice young Wyoming road worker.  He let us know that he had never been to NJ because "it's a zoo there, isn't it?"  So we offered him peanut butter and wheat thins which he happily accepted.  The Pilot Car arrived and escorted us up past the landslide road repair and off we went.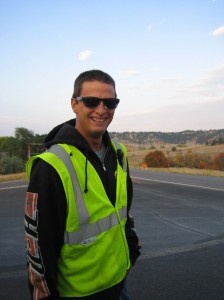 Theme of the Day: Indian stuff
Up next: Yellowstone National Park