It's a long way to Tipperary (Death Valley) so we were determined to get up and on the road early. Problem is it takes 2 and 1/2 hours just to exit the Park. Ok. So, we made it out and headed to Death Valley, another national park. Yes – another stamp! Forgot to mention that, of course, we got a stamp at Yosemite, too. Glenda is so happy.
Beautiful landscapes along the way – more little towns with nothing in between.
As we descended from the 9,000′ height of Yosemite's mountains to the sea level (and, in some places, below sea level) of Death Valley, the temperature rose as high as 103 degrees and the landscape changed dramatically again. We arrived in the Mojave Desert and all the fantastic colors and all the sand dunes that go with it. Again, it's a long drive through Death Valley to get to our hotel (which is also in the Park).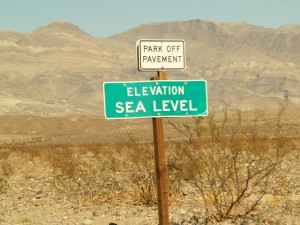 Now we are deep into the Valley of Death and we stopped at the visitor center for the movie and to get advice on where to go next. Our ranger recommended the "artist's loop" and a view of the landscape at sunset. So, there we went.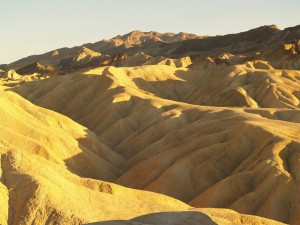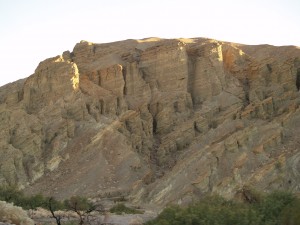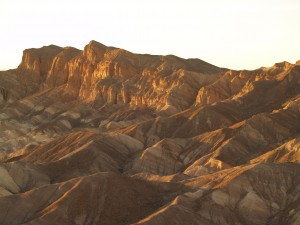 The desert is a magical place.  No animal sightings here but we did see a monarch butterfly.  At the visitor center we met a young woman with a William Smith hat on.  She graduated a few years ago and was here with her mother.  They traveled here after attendng a wedding in Vega.  Go Herons!!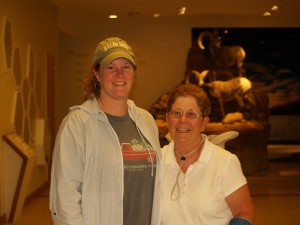 We are staying at an in-the-park hotel, one of two in the whole 3.4 million acre park.  There are 2 restaurants and 1 bar here so we headed to the bar.  Here we met Joe and Charlie who are on a boys' dirt bike/motorcycle adventure from the Grand Canyon west to Yosemite and Southern Cal where Charlie lives.  Joe is from Boston, complete with the accent!.  We are heading where they have been and they are heading where we have been so we exchanged travel info.  Here are Joe and Charlie with their dirt bikes loaded on the truck.  Charlie also introduced us to reader glasses with LED lights on the side..perfect for map reading in the dark.  A must have!!!!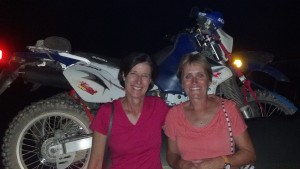 Jersey Junction 
We checked into our Furnace Creek Ranch hotel to be greeted by Cam from Kentucky who, upon seeing Glenda's Jersey license, said "oh Joizee" with a bit of a Kentucky accent.  He  seemed to know this pronunciation as well as how Jersey people dress from TV.  When pressed, he revealed he had never actually been to Joizee but had once stayed in Phillie overlooking the river to Camden probably.  What is it with everyone knowing Jersey from TV?  We need a new Jersey role model…please!!!!
Theme of the Day: Dirt, dust, sand, pebbles, rocks…oh my!!
Up next: Vegas