Just in case you think everything has been going so smoothly, we would like to revisit the lost (temporarily) and found issues we were having about 2 weeks ago.  Here is a list of things we have lost (temporarily) and happily recovered again.  (The last few days have been particularly challenging on this front) : Glenda's flashlight; Glenda's cell phone; Glenda's head lamp (yes she has one, hikers!!); Sue's camera charger; Sue's camera card reader; Glenda's purse; Sue's reading glasses; Glenda's sunglasses.
Up early this morning we thought we would catch the sunrise but Bryce was cloudy and snowy so no good sunrise to be seen.  We headed south to the Grand Canyon.  En route we changed our original plan and thought we would go to the North Rim first and then on to the South Rim where we had hotel reservations.  The only problem was we didn't know the time zone changed from Mountain time in Utah to Pacific time in Arizona.  Add to that our general map issues and so our estimated 4.5 hour trip became more like 6-7 driving hours.  Oh well.
At the North Rim we walked a short distance to Bright Angel Point for spectacular views.  Sue has never been to the Grand Canyon..it's HUGE!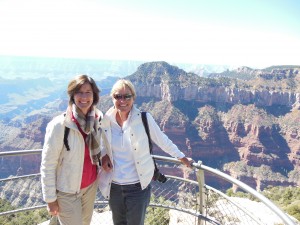 Now onto the South Rim which seemed like just  few short miles away….210 actually.  We were now in Navajo Nation and stopped at a few roadside Navajo crafts/jewelry stands.  We each found something to buy.
Finally we made it along the South Rim for more spectacular canyon views and even caught the sun setting against some of the canyon walls.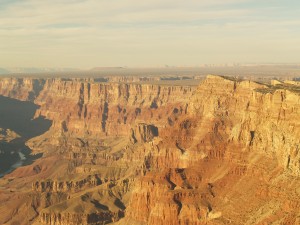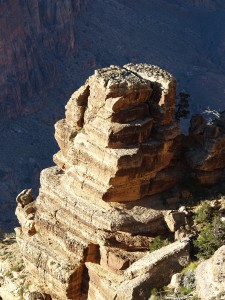 We were not able to get a hotel in the Park so we are  in a motel- a real throwback and full of Japanese tourists.  The dinner menu reminded us both of some of our local childhood diners or family restaurants with fruit cup,  minute steak etc.  Here is Glenda's spaghetti dinner:
Jersey Junction
Two Today:
Our ranger at the North Rim, Jacob, asked us where we were from and, yes, he is from South
Jersey–Cherry Hill area. He was a history teacher but gave that up to become a ark ranger 4 years ago.  He lives here in the Park from April until closing in October and then heads to Pittsburgh where he works as a tutor.
At a roadside Navajo Vendor/viewpoint we ran into a young woman wearing a Drew Softball t-shirt. Yes, she is the assistant softball coach at Drew University in Madison, just down the road from Sue (shout out to Carol and Andrea..Go Rangers!!).  She is on vacation after their Fall ball practice and before the season starts in the Spring.  She is from North Plainfield.  We Jersey people get around!
Theme of the Day: Big Rocks
Up next: Monument Valley, Utah
p.s.  We just realized that over the last 5 days we have been in temperatures ranging from 103 (Death Valley) to 33 (Bryce).  Thus the BIG suitcases!!