Another visit to the Grand Canyon South Rim this morning.  We walked along the rim and got 2, count them, 2 National Park stamps here.  Glenda was ecstatic.  Yay!!  We spotted our first wildlife evidence in the canyon and we shopped.  A double great morning!!
Next on our way to Monument Valley and The View Hotel in the Navajo Nation.  We weren't sure what to expect as we traveled again through the middle of nowhere.  We noticed in the Navajo Nation that there were many octagonal/round buildings/huts mixed into the communities with houses and trailers.  Glenda researched in the passenger seat and discovered that these are called hogans — Navajo homes — round to represent Father Sun, Mother Earth, Sister Moon and the circle of life (brothers Rand, Pete and Steve take notice, bros don't count…sorry).  Some of the hogans were also sweat lodges for meditative/ceremonial purposes. Some look like round garages, made of wood like some kind of garage or shed next to the house.  Maybe the grandparents live there?  Here are pictures of the mud hogan the ceremonial/sweat lodge type.  Pictures of your regular old hogans to come.
Monument Valley is _________ (insert your own superlative here).  This was the scene, apparently, of many old westerns featuring John Wayne etc.  As a matter of fact, our hotel is showing one of those old westerns on the side of the building right now.  We arrived just in time for the sunset, perfect time for shooting pics.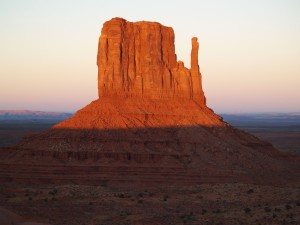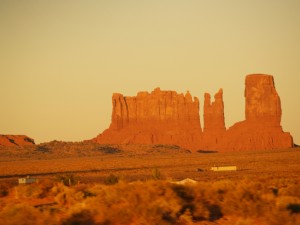 A note about our fellow travelers.  We have seen, of course, many Americans along the way.  But for the non-American tourists, we have seen the following:   Niagara Falls – East Indians; Yellowstone – Chinese; Death Valley – French; Swedish bikers; Grand Canyon and Monument Valley – Japanese; Germans everywhere as well as our fellow AARP members. HA!!
Jersey Junction
Elba helped us shopping at the Hopi House on the South Rim.  She is Puerto Rican, originally from Spanish Harlem Manhattan.  And although she has lived out west here in Arizona and California for a long time, she is still a New Yorker at heart and….her cousins are in South Brunswick, NJ (close enough).  Thanks Elba!!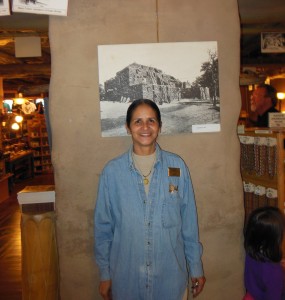 Theme of the Day: Giddeeyup!
Up Next: Moab, UT  Arches National Park