We woke up to catch the sunrise over Monument Valley from our hotel room and balcony. Exquisite!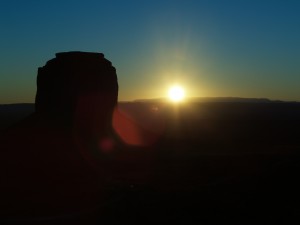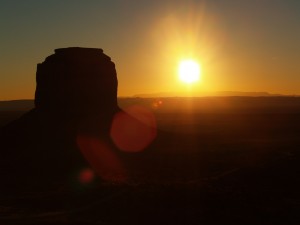 At breakfast we were approached by a Navajo tour guide who encouraged us to take his tour. And after thinking about it, we agreed. So we signed up for a 2.5 hour jeep tour along the bumpy, dirt roads in the Navajo Nation to view the various monuments. Here's what we learned from our guide Brian:
The Navajo people refer to themselves as Dineh, meaning human.

The round houses are, indeed, called hogans and Brian himself (now age 38) grew up in one. The round hogans are female, the cone-shaped ones are male. But families can live in either style.

Navajos believe in the duality of life and everything has a male and female aspect.

Brian, as a child, was sent away to school from Kindergarten through 4th grade as the reservation did not have its own school. After his 4th grade year a public school opened on his reservation.

The Navajo Nation has its own president and elected officials like our Congress, Senate, etc. They also vote in the U.S. elections. If they work on the reservation the don't pay federal or state taxes; if they work off the reservation they pay federal taxes. In either case, the Navajo Nation has recently imposed some taxes of its own.

Here in Monument Valley, many of the Navajo live in traditional hogans without running water. They have to travel to town to get their water. 
We toured the Valley and saw and photographed many of the natural stone monuments here. Brian had a lot of insight into setting up our photos. All of the monuments had a name based on what they looked like or figures that could be seen in the stones.
What a great tour! We definitely recommend it – specifically Monument Valley Safari. Next, on our way to Moab for more of the Utah National Parks.
Dinner at a local brewery in Moab – Monday night football on the TVs. The patrons at the bar are mostly sporty mountain men and a few mountain women mixed in. We notice a certain facial hairstyle on some of the lads – kind of like an extra soul patch or extra long and thin Van Dyke. Does anyone know what this is? Do we have this in Jersey?
Jersey Junction
Nothing today. Too busy learning about Navajo life. Brian has never been to NJ but he has been to upstate NY.
Theme of the Day: Navajo Nation
Up Next: Moab and Arches National Park